…why Goldman thought purchasing a shopping mall, nevertheless the largest one in Ireland, was a good idea, considering the rise of e-commerce, is beyond our comprehension. Bloomberg
The latest warning sign the international commercial real estate market is sliding into a downturn is news from Bloomberg that Goldman Sachs is trying to unload Ireland's largest shopping mall for a loss after acquiring it two years ago.
Bloomberg said a source had explained Goldman is asking €650 million ($695 million) for the Blanchardstown Shopping Centre in west Dublin. The property was acquired from Blackstone Group LP in the second half of 2020 for €750. 
Across the Atlantic, first-quarter CRE prices in the US slid for the first time since 2011, according to data last month from Moody's Analytics.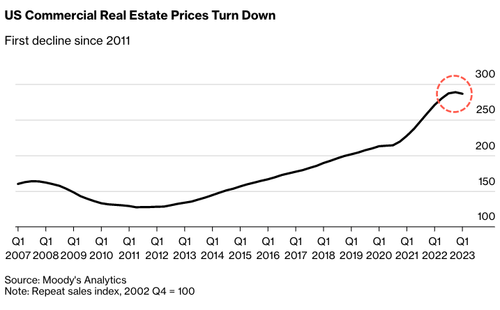 And Goldman Sachs chief credit strategist Lotfi Karoui recently told clients "the most accurate portrayal of current market conditions" is data via the Green Street Commercial Property Price Index, which suggests trouble ahead:
That said, at the current juncture, they likely provide the most accurate portrayal of current market conditions with Green Street indicating a 25% year-over-year drop in office property values and a 21% drop in apartment property values.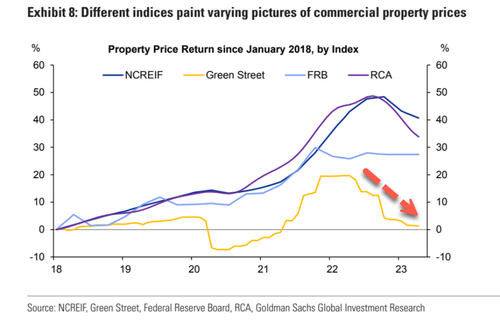 Buy low and sell high, something Goldman isn't going to do with Ireland's largest shopping mall. Yet another sign CRE markets are likely peaked.
H/T Zerohedge